Vitality - An Innovative Joomla Template Design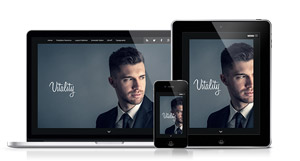 We are delighted to annouce a brand new template release for June. Vitiality opens big with a nicely framed full screen slideshow to present your images to your visitors, elegantly overlayed by your website logo image or title text. Framed by your main website navigation and some social media options, users can then easily continue on to the rest of your site content. Striking and unique stlying throughout ensures a polished design and a strong innovative standing for your website.
Vitality comes with a full sreen header option to which you can any number of slideshow images all from within the comfort of your templates parameters allowing you ultra quick deployment with no need for any slideshow extensions. This has allowed us to really integrate the slideshow seemlessly within the template design. The 'Full Screen Header' template parameter option allows you to create the perfect introduction to your website, grabbing your clients attention with a single image or full image slideshow spanning the full height and width of the browser viewport.
Other features include ultra a versatile logo editing option. The design allows for almost any size logo image as the header area will automatically expand to accommodate. As always an option is available to simply type in your website title as an alternative to using a logo image.
A selection of module extensions are included with the template download, each individualy styled to complement the template design. Extensions include the J51 Carousel module which allows you place any content within a beautifully scrolloing carousel. The J51 ThumbsGallery module allows you to easily and quickly convert the image contents of any folder within your media manager to a lightbox thumbnail gallery. And finally the J51 GridGallery module an ideal solution to showcase site content in to attractive image boxes which can then be linked to further articles within your site.
Vitalitys ultra slick design is your ideal template option to achieve a professional and creative design, at home in almost any style website!