Madison - A Visually Stunning and Attractive Design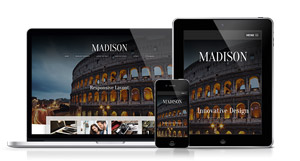 Madison is a beautifully crafted design perfect for showing off you or your clients business with a strong sense of style and creativity. A boxed layout floated over slightly slanted lines gives Madison a unique platform to represent your content. A clear and concise typography styling ensures your content is cleanly displayed and easy to read for your visitors. All packaged within a versatile and flexible framework allowing you endless layout options and coloring settings.
Introduce your site with a flexible header background slideshow built in to your template design which can be easily customized from within the easy to use template parameters. A centered logo and main menu position gives these elements pride of place within your design which is followed by the showcase module position allowing you to easily add the content of your choice within the header area. This area is perfect for placing rotating headings such as what you see demonstrated within the demo of the template. To achieve this we used the J51 Carousel module which you will find included with the download of the template.
With Madison we have continued to ensure total styling control with a wide collection of coloring options for almost every element of your design. These allow you to quickly and easily style your site to match perfectly with your project color guides. All styling options are readily available within the 'Styling' tab of your templates parameters.
Included you will find a collection of module extensions allowing you to add a little flair to your content. They include the J51 ThumbsGallery module which creates thumbnails on the fly of any image folder within your media manager and then displayed them neatly within a gallery for your users to browse. Our J51 Carousel module allows you to easily add any content within a flexible and responsive carousel along with our popular J51 GridGallery module allowing you to create an attractive grid of images with stylish hover overlays to display details of each image. Example of each can be seen on the demo of the template.
All of this packaged within a responsive design ensuring the perfect viewing platform no matter what the device. Get started today with Madison!