London - A Simple and Beautiful Joomla Template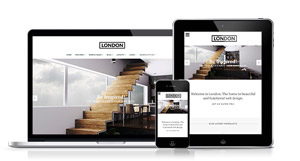 Our latest Joomla template release is the elegant and beautiful 'London'. Often the best solution for any project is the simplest and our London template offers you just that. A clean but stylish design that ensures nothing gets in the way of getting your message across to your audience. In it's simplicity, London still offers powerful features and endless possibilities allowing you a high level of versatility in getting your project on it's feet.
Although at first London may come as a minimal design, it is very easy to add a flourish of creativity to it's look and feel. The template comes with a highly versatile settings dashboard allowing extensive control over your site design. Each module position can be individually styled to your own taste with total width and layout control and a host of background and typography settings. Adding your own logo and branding is achievable with a few simply clicks ensuring your site development will take shape within minutes.
Among its bundled collection of module extension, we have included two new module extensions. Firstly is our new J51 SnipCart module which allows a very quick and simple method to sell your products. All you need is a SnipCart account (https://snipcart.com/. Set up each of your products within the modules settings and each product will automatically be added to your SnipCart account. This module will have you selling your products within minutes.
Another new addition is the J51 ImageHover module. Quickly create a flexible image gallery with an animated title and caption on hover of each image. Choose from over 40 hover effects from the popular imagehover.io image hover effect library for each of your images.
London if fully responsive and has been carefully crafted to ensure the best possible viewing regardless the device. Responsive options allow you to easily enable/disable each module block on smaller screens allowing you to ensure the most important information is available when space is a premium.