Creative - Customisable, Extendable and Versatile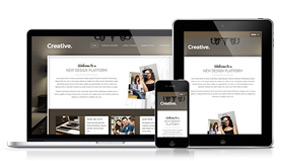 With its bright and vibrant design our latest template 'Creative' offers an opportunity to bring something special to your Joomla website design. A boxed layout jam packed with a host of design features, 'Creative' really has everything you could need easily and effectively create the perfect presence for almost any website design. Styled with subtle shadows, rouded corners and strong borders, you will find this template to perfectly contain your sites content in a client focused manner. Never before has creating the perfect stytle for you or your client been so easy.
Template features include the impressive Vegas background slideshow option. Quickly and easily add images to a slideshow via the templates parameters which will sited subtly behind your boxed content, This is a great way of adding a little life to your site without distracting your visitors focus.
Also from within the templates parameters you can easily style each row of modules, selecting the background color of your choice. And if that does not add enough wow for you you can quickly replace the solid background color with an image of your choice, all from within a few quick and simple clicks.
As always we have included a host of impressive modules which marry perfectly with the template design. Included in these module extensions is the hugely loved GridGallery module which will allow you to easily and quickly create a grid based gallery to showcase your products or services. A Carousel module which will allow you to place any HTML markup within an impressive rotating carousel.
As always, all the usual bells and whistles you find within Joomla51 templates are there, including excellent layout options, a fully responsive design and a host of styling options so to craft your website exactly to your needs. 'Creative' allows you the chance to quickly transfer your imagination and creativity in a professional and functional website design.