Florence - A Unique, Multi-Purpose Template Solution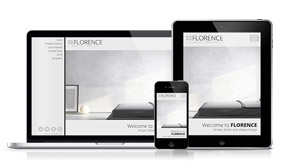 All to often you will find Joomla template design to always sing from the same hymn sheet when it comes to design and layout, so for the month of July we decided to bring you something a little different. In 'Florence' you will find a unique and clean Joomla template design with a carefully set typography, providing you with an excellent canvas to create your next Joomla project. With 'Florence' we have paid a special focus on graceful, minimalist styling to ensure an un-cluttered and pleasing viewing experience for your site visitors all full responsive for the perfect viewing across every possible screensize.
One of Florence's unique features is its main navigation which is accommodated within a static side column panel allowing easy navigation access throughout your site. Submenu items for this navigation display within a neat accordion styling with sleek animated transitions.
Other features include a 'Full Screen Header' option, allowing you to display an static image or image slideshow which perfectly fills the browser viewport along with your the side column and logo. An example of this can be seen on the template demo homepage and on each of the template demo example styles. Setting up this options only takes a few clicks and can be completely done within the templates parameters.
We have made an extra effort to make 'Florence' as customizable as possible with a host of color changers for almost every element of the design. A few clicks from within the styling tab of your templates parameters will have your templates colors exactly as you wish with limitless possibilities. Be sure to check out some of the example styles on the templates demo to give you an idea of the full extent of Florence's styling capabilities.
Florence includes a host of module extensions all perfectly styled to blend perfectly with the template. Extensions include the super light J51 Slideshow module for full a sleek touch enabled image slideshow, the J51 GridGallery module to perfectly showcase your work in a neat responsive gallery and the ever popular J51 Carousel module allowing you to place almost any content in to a beautiful rotating carousel.
Be inspired for your next Joomla project with 'Florence' :)