Fedora - Bring Cutting Edge Quality to your Project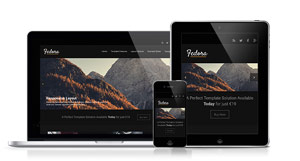 Today we are delighted to announce the release of our Fedora Joomla template. As another year slowly comes to a close, the folk as Joomla51 have been busy working behind the scenes to create a special design to finish off 2015. With Fedora you will find a sleek and modern template design built on a stable and lightweight framework that allows you endless possibilities for your next Joomla project! A template solution with the scope to fulfill almost any genre of website from personal to business.
Fedora includes a collection of useful module extensions to help bring life to your content quickly and easily. Among these extensions is our new LayerSlideshow image slideshow module, our Icons module which now includes the excellent 'Pixeden Stroke 7' icon set and the beautiful GridGallery module. Each module is fully responsive and styled to blend perfectly within the template.
With every Joomla template release we are always looking out for ways to improve the functionality of the template and this month is no exception. A popular request has been to include an option to set the break point for the mobile menu. This option is now available within the 'Responsive Options' tab of your templates parameters. We have also included some extra options when loading Google fonts including a field for setting the character set (latin, greek etc.).
Other features include extensive coloring and typography options for endless styling opportunities, a massive selection of module positions to choose from allowing complete layout control and a fully responsive, mobile ready layout. Build something attractive and accessible today with Fedora!