Enterprise - Perfect Base for your Business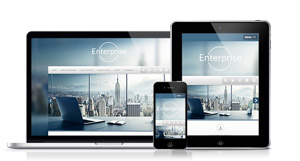 New to the shelves this May is our Enterprise Joomla template. Although this design could be tailored to suit any website, we believe it would be most at home showcasing a small to medium sized business. A box styled layout, Enterprise boasts carefully crafted textures and gradients resulting in a clean and graceful design, combining modern style with excellent usability. A host of features allow for excellent flexibility in creating the perfect design for your client.
All the typical features that your have comes to expect from Joomla51 templates are there including a wide array of styling options to craft your template perfectly and seamlessly with your business colors and styling. Limitless layout possibilities can be achieved with the wide selection of module positions, am impressive 56 in total, allowing you to perfectly place your site content to best suit your needs.
A center positioned logo area allows for ample room for almost any size image, all easily edited from within the templates parameters. The templates header will automatically expand to accommodate your logo image so you don't have to worry about it been cropped or resized. As always, if you would sooner just have some text for your logo then that option is available there too including styling options to edit the logo font and color.
A popular request in the past was a more customizable social icons. Taking this in to consideration we have add the option to add any Font Awesome icon within your social icons panel, that gives you over 500 icons to choose from, 120 of which are brand orientated (Instragram, Dribbble etc.)
Last but not least Enterprise comes with a selection of module extensions designed specifically and blending seamlessly with your template design. Just another reason why Enterprise may be an ideal solution for your next project!