Colette - A Stylish and Clean Joomla Template Solution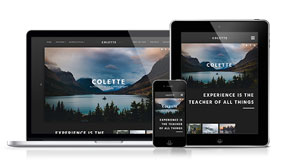 Introducing our latest template to the ever growing Joomla51 collection, Colette offers a clean and stylish design for your Joomla project. Earthly colors and delicate typography gives Colette a tranquil feel refined with carefully crafted detailing. A consistent stylesheet throughout, Colette will be at home in any project.
Colette comes fully customisable with a host of great features to aid you in honing your project to fit perfectly within your needs. A host of color and typography changers allows you total control of your website. Putting your brands mark on your design can be achieved in a matter of minutes.
Module Style Overrides gives you the option to uniquely style each individual module position, easily applying unique padding, margin, coloring and imagery. This features is incredibly useful when you wish to make them small tweaks to your modules or wish to add a splash of color to your overall design.
Fully responsive, Colette gives you incredible layout control across all possible screen sizes. Fully fluid containers ensures your site will automatically transform to fit perfectly with your end users device, with host of responsive options giving you that extra control needed to refine your design where needed.
Included with your template download are a number of easy to use module extensions. Each extension is crafted to fit perfectly within the template design, taking the hassle out of adding some flare to your website content.
Be inspired today with the beautiful and unique Colette Joomla template.