Boutique - Style is everything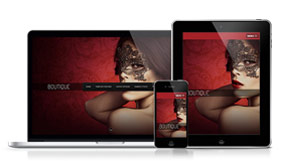 They say fashion is what you are offered and style is what you choose. With our Boutique Joomla template we are hoping to bring you both. This super slick design will really give your website something unique that will make it stand out from the crowd. A bold and contrasting design, Boutique will give your brand the touch of class and style we believe it deserves while ensuring that your message lies clear and concise to your website visitors.
The 'Full Screen Header' option allows the perfect introduction for your homepage, catching your clients attention with an background image or video of your choice. This is overlayed with a dark horizontal strip which accommodates your logo to the left and your menu to the right. These have been carefully crafted in a sleek and modern style.
A number of extensions are included to compliment the template design. Place any content within a carousel to perfectly showcase your products or rotate through a list testimonials. The ThumbsGallery and GridGallery modules allows you to create the perfect image gallery or portfolio. Easily create an icon box using any of the 500+ Font Awesome icons with our J51 Icon module. All these are included with your template.
As with all our templates, Boutique boasts an array of styling options leaving you with endless design variations. Be sure to check out the 'Example Styles' in the template demo which will give you just a glimpse of what is possible using these many features. All available from within the comfort of your templates parameters.
To ensure the best possible viewing across all devices, Boutique comes fully responsive. Using a fluid width ensures that every possible small screen size is considered. A simple animated mobile menu lets you enjoy easy navigation throughout your site all from the touch of your fingers. You can further customise the responsive layout specific to your content using the responsive custom CSS fields. These fields allow you to apply your own CSS to each screen size ensuring the perfect viewing experience regardless of the screen size.
Get noticed today with Boutique!