Boss - November Joomla Template Release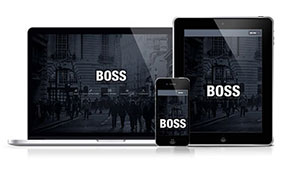 Introducing Boss, our template release for the month of November. This is a multi-purpose design that boasts a spacious layout amid some bold new styling options for you to get your teeth in to. Our general approach to the design of this template is rather minimalistic with careful attention paid on subtle hover effects and detailed light typography bringing site content fore to the users attention. All beautifully crafted within a simple and polished design, Boss will do all the work for you in getting your project up and running and looking incredible giving you are your client a creation to be proud of.
For this design we have placed special focus on the header background image where you can easily select the background image of your choice from within the templates parameters. More importantly we have added a full screen option for the header area. Once enabled the header image will automatically adjust to perfectly fill the browser window regardless of the screen size with the logo and top menu centred within.
Another feature you would have first seen introduced in last months template release, is the parallax background which gives your site content a stereo feel as you scroll down through each page. This month we have extended this feature allowing you to add parallax backgrounds on a number of different sets of module positions (header, top-2#, bottom-1# and bottom-2#).
This fully HTML5 validated template comes with all the usual features with multiple font and color choosers to customise your site to your needs, a whole host of layout options giving you endless possibilities and all fully responsive to give the best viewing conditions across all devices.
We hope you relish this months lovingly crafted design and that you enjoy working with it as much as we enjoyed developing it. We are confident that this Joomla template will give your next project the flair that you and your client wish.
Template Demo